Ok, sometime back I had one of my "brilliant" spur of the moment ideas and I decided I was gonna get into braided rug making. I bought all the books and tools... Except that I soon found out that the wool fabric cost a bazillion dollars and it was a LOT of work besides. So it never happened. Then at the WV folk festival a couple weeks ago, I saw these crocheted rugs. Cool, right? And I thought one might be neat to have.. till I asked how much...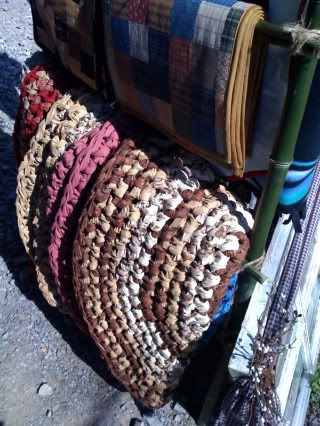 $75. Each. *cough* For a kitchen rug. Heck I can crochet. So i bought the most gigantic hook I could find, and I have begun. It started with tearing up old pillowcases but soon learned it's gonna take more than that.. but it's ok.. I have a lot of stuff marked for goodwill that I'll sort through. Obviously the rugs in the picture are done with fresh, nicely cut strips, but my torn and tattered is lookin' pretty cool too. I only have the "middle" section done so far and it's kind of hard getting started cuz I'm using two strips held together, but as soon as I cut some more strips and it gets a little bigger. I'll show you. It makes a very heavy, sturdy rug that will last for years. I'm not using any particular pattern... I just browsed around the internet and started and it shows *grin*. But By God, that is the first time I've picked up any kind of knitting or crochet hook for anything other than a dishcloth in a few years. And I consider
that
a great success, no matter how the rug turns out :) For instructions to try one sort of like the one I'm making,
go here.