Not
good
evidence, but still, might as well share the pics I
did
get. So this is Mr. Turtle and I
swear
his head was easily the size of my hand.
And for your blurry viewing pleasure.. Mr. Groundhog daddy chomping away happily in my backyard...
He might look smaller than I um... uh.. described.. but he's BIG. And this doesn't show him
standin
' up *grin*. And yeah, I know I need to get that lawn mowed... but not today.
Then there was this little guy just now. Even in the rain it's a fight between the cardinals and this little chipmunk to see who can eat more sunflower seeds. I think little chippy here might be winnin'.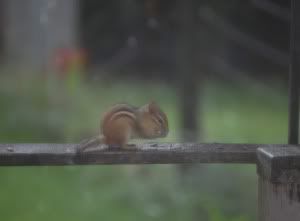 It's a downpour kinda, dark, dreary, rainy-rainy-rainy day out there... so it's gonna be a good day to read a book and a do it yourself home spa day sounds good too. The lawn will have to wait. And that's ok too.