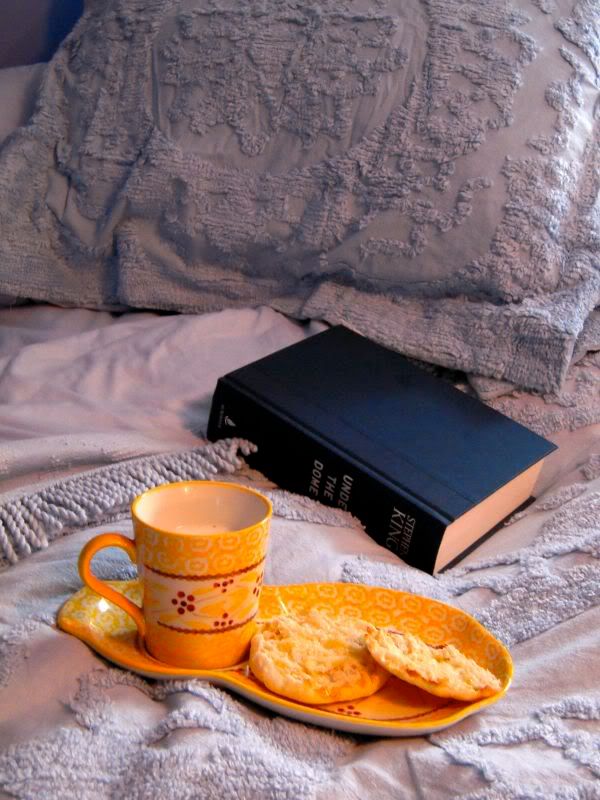 By God, I might be broke and still a little broken hearted, but I sure am comfy. I finally got around to
openin
' my Santa presents to myself and this pretty much represents the whole deal of what I've been
splurgin
' on these past few months. (well.. besides that pair of awesome pearl earrings
hehehe
... just
sayin
'). But I read a saying once that said something like "pleasure delayed is pleasure denied". And I said Amen. I've learned very well the lesson that I don't know if I'll have tomorrow so I'm gonna try like hell to enjoy today as best I can. Well... within
reason
... *grin*
And don't you just
love
that little cup/saucer? It can hold "real food" - or just as easily an icy gin and tonic with lime and some cheese and crackers... Just
sayin
...
multifunctional
and I love it. (
qvc
, of course, a set of 2 for pretty cheap). And then we move on to the totally awesome and biggest indulgence of the new bedding I treated myself to - oh yes kiddies, I treated myself to a big, giant, soft and fluffy feather bed (hey, it was 60% off!!), brand new pillows, some great thread count flannel sheets, on up to the chenille comforter that reminds me of my grandmother (and puhleese - that blue is SO much prettier in person)... it makes me feel like a princess. And now this is
my
bed and it finally feels like it, hear me? It's been a long time comin' and I am well pleased with it. Because please, let me not forget - I am now 49 and fabulous! I also got myself some yummy delicious shower gels (Philosophy from
QVC
.com) totally try them - they smell so awesome and pampering but not too sweet or overpowering. An affordable indulgence. *grin* I keep
takin
' hot and bubbly showers to try the different scents, then
climb
back in that
snugly
and comfy bed to read my
other
boyfriends new book, and it might take a while, but I can't think of a better way to give myself a
big
g
iant
cozy hug
and believe me, I've tried. I think this is as close as I can get.
So here it is.. and it's where I've been most of the weekend. I guess I was just overwhelmed there for a bit and come Monday morning I'll have to pry myself out and deal with real life again, but I can't worry about that till then. It'll all be ok and thank you from the bottom of my heart, my friends, for the warm and comforting things you've said. Every one of you are amazing and kind and your words mean more to me than you can ever know. And I am blessed by every one of them. Amen.