I woke up this morning to find evidence of wax teeth, many cocktails and way too many candy wrappers. Apparently I had a party for one. ::laughing::
And I may have done all my Christmas shopping too. This could be bad *grin*. What I do is buy stuff online or from TV and when it comes, I don't open the box - just put it away - then about 3am on Christmas morning I'm like a kid and jump up cuz I want to open my presents from myself. But by then I've pretty much forgotten what I bought, but it's always somethin' I really like. hehehe
But, uh, I might have gotten a
wee
bit carried away last night. I'm not sure and I'm not callin' for the balance on my credit card to find out.. All I know is I will be an extremely pampered princess this year :) But it's ok. Even though it seems that the sitter job isn't as much of a windfall as i thought... even though they've trained about 60 people, turns out they are only gonna have ONE position to fill for each shift, and that has already been spoken for. So I figured, hey, why not take that overtime I DID get and treat myself to a great Christmas morning. And I did.
And now, a mere hour or two until the half price candy sale... and I am SO ready. *grin*
9:30am - update
- I am the queen of CANDY!!!! And this was me using self control... hehehe.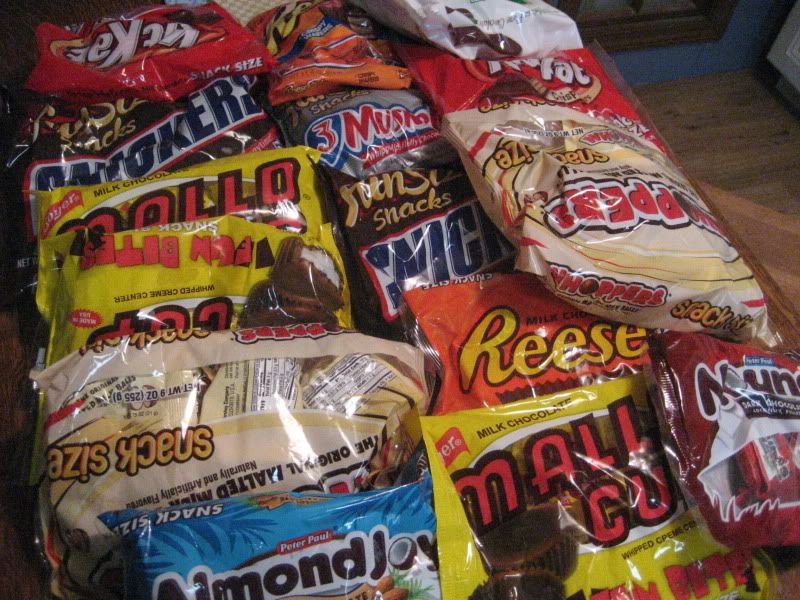 1:30pm Update
- Lord have mercy... I have a meatloaf in the oven and it smells soooooOOOOooo freakin' good I may have died and gone to heaven. The food of angels can't smell better than this... and sometimes just the aroma alone is as good as the food. Just sayin'.
Meatloaf: smoosh together about 3 pounds hamburger, 1-2 eggs, about a half cup of milk, a chopped up onion, heavy salt and pepper and a good squish of ketchup, and a couple slices of torn up/shredded bread - i usually have whole wheat. Put it all in a loaf pan and bake at 400 for about an hour. Then ... the special sauce. Highly guarded secret for years cuz' everyone LOVES my meatloaf.. but I'm finally gonna share it. But ssshhhh.. it's secret!!!! About 1/2 cup ketchup and about 1/2 cup sugar, mix it together and glaze the top of the loaf and put it back in to cook for about another 20 or 30 minutes. (you can put extra glaze over it when served). Make some mashed potatoes to go with it. Mmmmm.
Note: I always use a meat thermometer. When I finally discovered them and found out they were only a couple dollars, I vowed to never be without one again. Nothin' worse than not bein' able to tell when your meat is done :)
Ta-da: