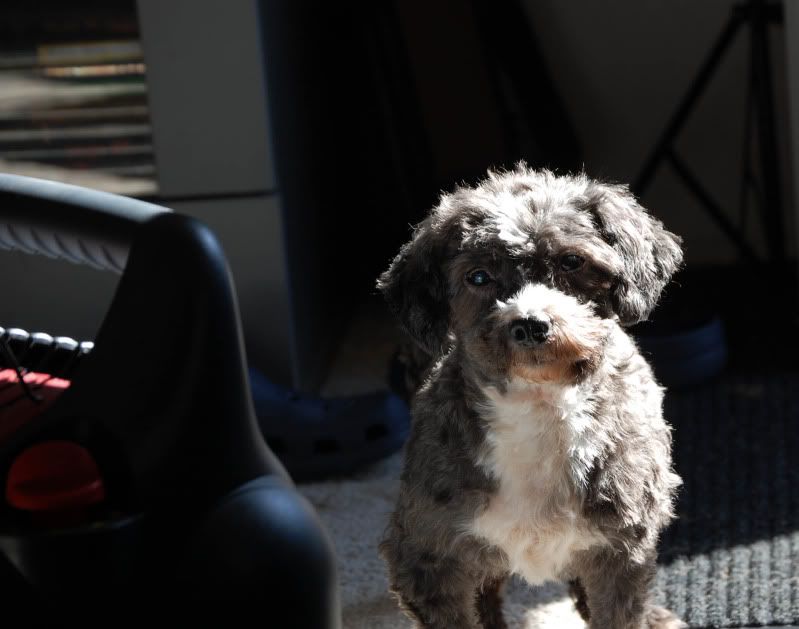 Yeah, I know.. he's cute for almost 15... and by the way, in the pic he's sitting next to that heater I just mentioned.. he loves that heater and I love that little guy.. he spent probably the first half of his life sleeping on my hip... He was so little when I first got him that his head outweighed his body and if he tried to drink water his hind feet would go in the air. ::laughing:: But he wants ya to know his
mommie
ROCKS
shepherds
pie. How did I not know this wonderful creation existed until a month or so ago? I am now the QUEEN of casseroles, I tell ya! You can NOT get better comfort food than this and the combinations are endless. My "version" is below.
Use 5 or 6 potatoes -make mashed potatoes as you usually would - butter, salt, pepper and a little milk, then
smoosh
in an egg and set aside. Fry up a pound of whatever kind of meat you have, last time I used
Italian
sausage, this time I used hamburger. When it's done, turn off the heat and add a bag of frozen veggies, whatever you like. I use a mix of carrots, corn and peas. Then into that, stir in a can of tomato soup (or whatever you like) without the water. Put all that in a casserole dish, then pile the mashed potatoes on top (this time I added some chunks of cheese to the top before I put the taters on)... put in the oven at 350 for about 45-50 minutes or so..... heaven. Pure, delicious heaven.
Go make some. Mine just came out of the oven.
Nuff
said.