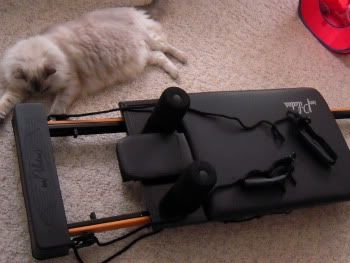 No, not the big, lazy, fat kitty - the new workout machine! Oh yeah.. the healthy thing is on like Donkey Kong now. I had a Pilates machine years and years ago but gave it away cuz I didn't have the room for it... but now I do. Half the workout was gettin' it in the house through a foot of snow - that bad boy is made solid. I'm excited bout the CDs that came with it featuring
Marjolein Brugman
- I like her style - sincere and strong and motivating. We shall see!
Anyway.. if it helps unkink even half of the kinks in my back it will be well worth it ::grin::
Oh Yeah, and the Very Important Hearing that I've been waiting on for two years and was supposed to be today? Cancelled and postponed due to weather.
Oy.. my kinks hurt.
3:00 Update. Friends just stopped by out of the blue. With two shovels and a 12 pack ::laughing::. And the driveway is clear. What an awesome and genuinely NICE spur of the moment thing to do. They're reading and I wanted to make it known ::grin:: Again - THANK YOU!
And I am blessed.