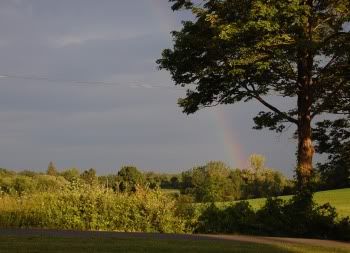 ... is better than no rainbow. And how blessed was I to see this one just now as I was sippin' on my coffee? I had to share. It was an awesome way to start a Sunday morning and I'm gonna take it as a word of encouragement.
Am I AM blessed, but I sure do appreciate a reminder now and then.
Update: I finally found the papers (various emails that my work wrote to me), and if anything is right, fair and just in this world.... They. Are. Doomed.
Another Update a few days later... but I forgot to tell ya... after I saw that rainbow and finished my coffee and hauled out the literal mountain (at least 6" high) of papers and my hand to God, the first two pieces of paper I picked up were just the ones i needed. I think I got me some Power on my side.. but any extra prayers ya got will never hurt :)