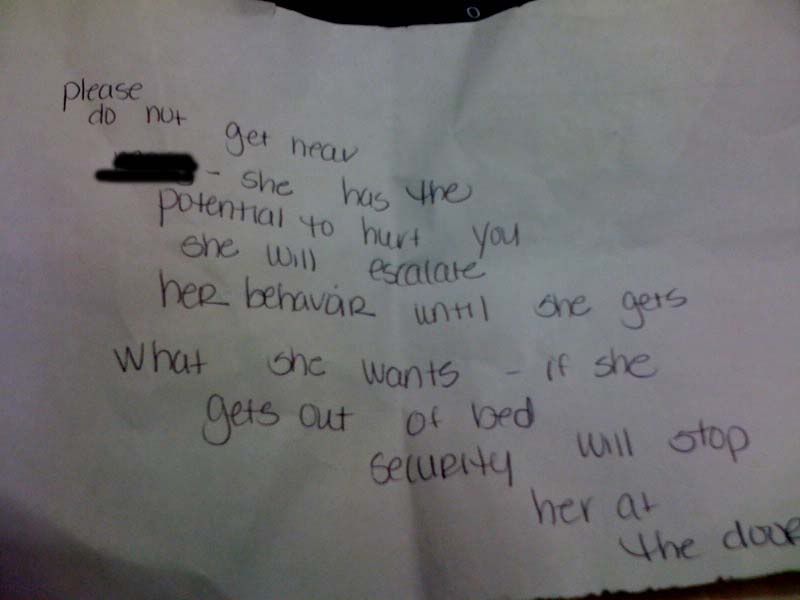 Did I tell you I was gonna start a second job? I didn't??
Ok
... well.. it' happened kind of sudden. Actually, the opportunity came on the exact day my horoscope said I was going to come into money in unexpected ways... I signed up for training, and here we are.
And this note was handed to me last night on the sly by the nurse in charge within my first 2 hours on the job... now that's training. *grin*. The job is at the hospital and basically what I do is sit and watch patients, make sure they don't fall out of bed or try to hurt themselves... but that's all I do is sit and watch them. I'm only assigned one patient at a time for a 4 hour shift. I do nothing clinical, just call a nurse if the patient needs something medical. And I can work as many hours as I could possibly want - AND it's all overtime. Time and a half stupid crazy money just for sitting there. I can do that.
So interesting! The lady of the "note" was quite something, security had to be called because she was throwing and kicking - so there's five big security guys there and she's not
lettin
' them do anything.. the biggest of the security guys wiggled his finger at me asking me to go into the room and try - and amazingly enough, after talking to her for a couple of minutes she let me take her things with no problem!
Like I said.. SO interesting. It's completely different from any job I've ever done and I feel like I'm helping. And being able to help someone else is helping me. Amen.